PeePee Pillow
PeePeePIllow Returns
PeePee, the legendary penis pillow, is back from his epic boy's trip, but for the very last time. Don't miss out on your chance to grab this irresistibly cute and cuddly 50 cm tall plush pillow with a surprisingly impressive girth.
Once he sells out, he's gone forever.
Get ready for the ultimate cuddling experience with PeePee!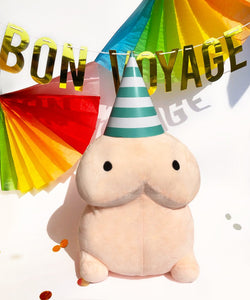 Testimonials
I received this lovely PeePeePillow as a Christmas present, and now he sits on my pillow every night. He's so fluffy and cozy. I love snuggling up to him whether I'm happy or sad. If you're thinking about buying one of these, I swear to God - do it, you won't regret it.

Samantha T.
Bought this for my friend for her birthday. Very impressed with the quality and she absolutely loves it! It would also be the perfect gift for any bachlorette party.

Cathleen S.
When I saw that my cousin had this, I wanted one too. It's super cute and always gets laughs when people see it.

Sara R.
I bought this for my friend's bachelorette party, which she loved! This adorable item never failed to get a laugh from anyone who looked at it, making it such a fun night! It is a great gift for a bride-to-be! It is so oddly cute as well!

Kelli K.